Kid's Stuff
Monday – Saturday Late June to Labour Day Weekend
Seven different age appropriate programs are available ranging from infants to teens. Program activities vary depending on the age group but a wide range of outdoor activities and arts and crafts take place throughout the day.
Programs hours are from 9:00am – 12:00pm, 2:30pm – 4:00pm and 6:00pm – 8:00pm.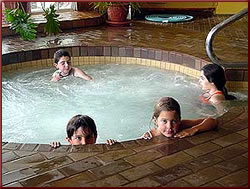 Children should come prepared to programs with sunscreen, bug repellent, appropriate clothing for the days activities including bathing suits and towels, if necessary diapers and their favourite soothing toy.
It is the policy of Wigamog Inn to contact parents if their child becomes very upset and cannot be settled within twenty minutes. The same procedure will also be followed if the child can't be controlled through positive behaviour management techniques. This will ensure a safe and enjoyable atmosphere.
Supervised Children's Dinner (optional)
Supervised Children's dinner are available daily with the exception of Sundays to children ages 5 and up. The Eco Nature staff will supervise the buffet dinner beginning at 5:30pm which leads right into the evening program from 6:00-8:00pm. Daily menus and sign up sheets are posted on the Activity Board. Please remember to inform a Team Counsellor should your child have any dietary or allergy concerns. For the safety of all children, only children ages 5 years and up are permitted to this dinner.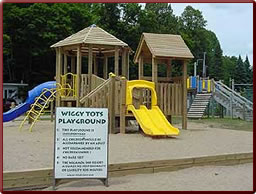 Families with children under this age group are welcome to feed their children earlier in the dining room at 5:30pm and proceed to programs at 6:00pm allowing parents to return to the dining room afterwards for that much needed intimate dinner for two.
The above options are designed to give parents a vacation too; of course all families are welcome to dine together in the dining room at their regular scheduled dining time booked upon arrival at the resort.
For reservations or information please telephone
1-800-661-2010, 705-457-2000 or fax us at 705-457-1962.
SEND US E-MAIL TO: [email protected]