Our finest accommodation! Charming country decor with various sizes and styles to choose from. There's something for everyone. Intimate, cozy cottages are sure to please couples looking for a romantic getaway or an unforgettable honeymoon! Larger units are suitable for families or two couples sharing. All have fireplace or woodstove and an in room Jacuzzi tub. All are equipped with hair dryer, mini fridge, colour TV, coffee maker, and three or four-piece baths.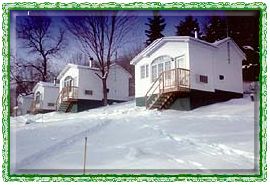 Single Room Jacuzzi Cottages and Studios – Charming and intimate! Offering couples the perfect romantic getaway with in room Jacuzzi tub, fireplace or woodstove, queen bed, and either a sofa bed, or a double or single bed to accommodate family getaways.
One Bedroom Jacuzzi Cottages* – Very popular with couples and small families. Couples will enjoy the in room Jacuzzi tub, woodstove, and a queen bed in the bed-sitting room. Parents will appreciate some privacy, as there is a small separate bedroom with bunk beds for the children, which adjoins the bed-sitting room. All have a single sofa bed.
Two Bedroom Jacuzzi Cottages*† – All units have two bedrooms and a separate living room with woodstove. Bedding varies with each unit. Each has a sofa bed in the living room and deck. Excellent for families with two or more children, or two couples sharing.
Two Room Lakeview Jacuzzi Suites
Our newest and finest accommodations, with a spectacular Lakeview and semi-private deck. All have a bedsitting area with a queen bed, sofa or chairs, in-room oversize jacuzzi tub, woodstove and a separate private bedroom with double bed.
*Minimum occupancy rate applies
†Weekend Friends Super Saver special available
Wigamog Inn Resort
Haliburton, Ontario, Canada
(705) 457-2000 – (800) 661-2010
K0M 1S0